Cheap Gatwick Airport Hotels
You can choose from our selection of 24 cheap Gatwick hotel and parking deals. Some of these offer Gatwick hotels with free parking.
The hotel information pages will allow you to find out how best to reach the airport from the hotel, the parking facilities, details about the rooms and restaurants, and more.
Some Gatwick hotels with parking are within walking distance of the airport terminals, while it is necessary to take a shuttle bus from others. The hotels near Gatwick range from 5 star luxury hotels to simpler 2 star accommodation.
A covered walkway from this hotel guides the way to the South Terminals at Gatwick. The North terminal and train station are just a few minutes walk away. The train takes 30 minutes to London so this hotel is ideally situated for travellers.
Check-in is from 3 pm and guests check out at 12 noon. There is a great selection of rooms and suites for guests to choose from.  Families are spoilt for choice with a variety of room options from a soundproof room with bunk beds up to four people to a larger deluxe family room with connecting doors.  There are also executive suites and accessible rooms. All rooms have free Wi-Fi, air conditioning, hairdryers, TV with Cable channels and adjustable room thermostats.
Breakfast is served in the bright and airy Garden restaurant from 5.30 am for guests with an early flight to catch. The restaurant serves food throughout the day and children under the age of 10 (maximum 2)  eat free when they are accompanied by a grown-up paying full price for a meal. Guests on the go who haven't time to sit down over a hearty breakfast can grab a healthy breakfast or sandwich from the hotel's Costa Coffee Bar.
Within walking distance of Gatwick's south terminal and with great offers on hotel accommodation and parking. This contemporary hotel offers park and fly packages and is only 30 minutes from central London. Marriott claims to offer the best steaks in the Gatwick area at their Casterbridge Grill. Our verdict – We haven't tried the steaks yet but can vouch for the location and contemporary look and feel of the hotel. Its ideal to be able to drop off your car and know that you can walk straight into the terminal in the morning without waiting for a bus transfer.
The Sofitel offers 4 Star luxury hotel with direct access to the North Terminal at Gatwick Airport. Contemporary bedrooms and bathrooms plus 24×7 fitness suite and award-winning french cuisine at La Brasserie plus two other restaurants to choose from. Our verdict – The location, star rating and facilities make the Sofitel our favourite for hotel accommodation at Gatwick North terminal.
The Copthorne Hotel is within 10 minutes by bus from Gatwick Airport. Its a 4-star hotel set in 100 acres of woodland offering comfortable rooms and leisure facilities. Our verdict – The Copthorne offers great value for money with its Gatwick airport hotels and parking package but you have to remember to add on 10/15 minutes travelling time to the airport.
The Alexander House Hotel is a grand red-brick country house with parts dating back to the 17th Century, in East Grinstead a short drive from Gatwick Airport.
The hotel is good value for money with doubles from £125 per night including breakfast and wifi. The hotel also has a pool, sauna, spa, tennis courts, fitness room, steam room, bar and restaurant.
Although the exterior is historic country house, the interior is modern and colourful.
Stanhill Court Hotel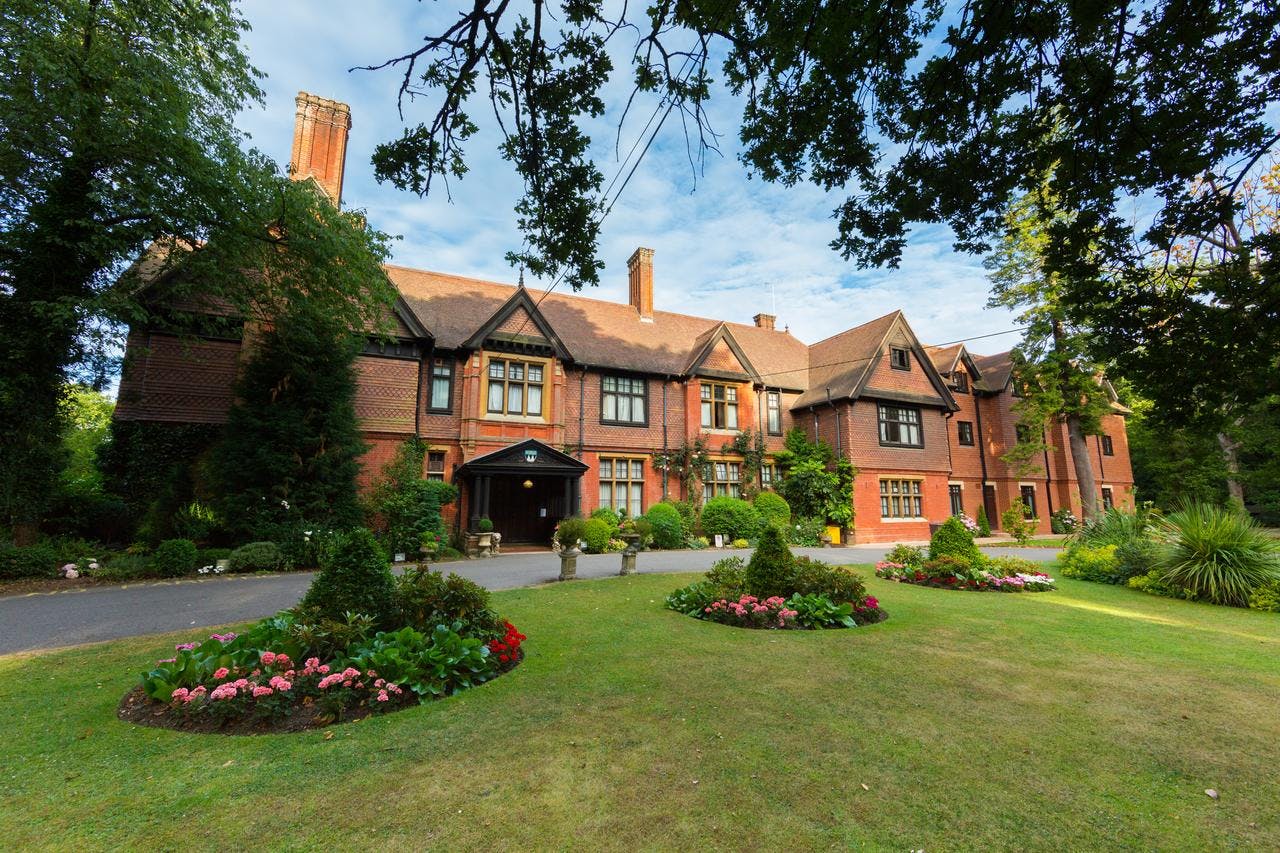 Red brick front and gardens or Stanhill Court Gatwick
The Stanhill Court Hotel is a hidden gem only 5-10 minutes from Gatwick Airport but not under the flightpath. This romantic hotel country house hotel built in 1881 has recently been refurbished throughout. You can read more on the Stanhill Court Hotel page.
The Arora Hotel at Gatwick Airport offers packages with car parking or room only. It is a 4 star hotel with 432 bedrooms in the the centre of Crawley only a short distance from Gatwick.
Looking for Gatwick Parking?
Just looking for Parking? Click here to go to our Cheap Gatwick Parking page.