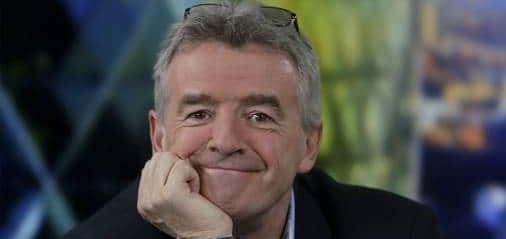 Ryanair to start flights in July

Ryanair boss Michael O'Leary describes quarantine rules as idiotic as he announced plans to start flights again this July.
Unlike some airlines that plan to leave the middle seat empty, Ryanair will try and sell all the seats on their planes. That is the only way the business can work claimed Michael O'Leary.
Ryanair will put in place temperature checks and face masks for both passengers and staff. There will be limited in flight services with just prepackaged snacks and drinks and only cashless transactions. 
All Ryanair aircraft have HEPA air filters as used in hospital critical care wards. Aircraft will also be disinfected every night with chemicals that last over 24 hours.
The UK government is introducing a 14-day quarantine as Covid-19 has a one to 14-day incubation period, during which it can be transmitted even without symptoms.
Mr O'Leary disputed that the quarantine was science-based, due to French and Irish travellers being exempt.
Ryanair has announced today that it plans to restart 40% of its flights, almost 1,000 a day, from 1 July, subject to restrictions being lifted in the EU.
Mr O'Leary told BBC News: 
"We accept in July and August the load factors will be lower than that, but we don't need social distancing. In fact the government has already recommended where social distancing isn't possible, wear face masks – that is the effective measure against the spread of Covid-19, not ineffective measures like a 14-day quarantine which no one will observe anyway." 
Ryanair's CEO Eddie Wilson said: 
"It is important for our customers and our people that we return to some normal schedules from 1 July onwards. Governments around Europe have implemented a 4 month lockdown to limit the spread of the Covid-19 virus. After 4 months, it is time to get Europe flying again  so we can reunite friends and families, allow people to return to work, and restart Europe's tourism industry, which provides so many millions of jobs. 
Ryanair will work closely with public health authorities to ensure that these flights comply, where possible, with effective measures to limit the spread of Covid-19. As already shown in Asia, temperature checks and face masks/coverings are the most effective way to achieve this on short haul (1 hour) within Europe's single market. 
Now that Europe's States are allowing some gradual return to normal life, we expect this will evolve over the coming weeks and months. With more than 6 weeks to go to 1st July, Ryanair believes this is the most practical date to resume normal flight schedules, so that we can allow friends and families to reunite, commuters to go back to work, and allow those tourism based economies such as Spain, Portugal, Italy, Greece, France and others, to recover what is left of this year's tourism season. 
Seats on all these flights are now on sale at www.Ryanair.com from 1 July, at prices which start from just €19.99 one way. We will continue to work closely with public health agencies to encourage our people and passengers to adopt practical and effective steps to limit the spread of Covid-19 virus, in the best interest of our passengers, our people and our communities".