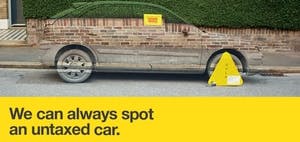 How to check car tax

A story about how important it is to check car tax and avoid a fine
Find out how easy it is to check if you have car tax and avoid getting a fine or worse. Find out with our story below.
Trying to get away for a few days is always a bit of a mad rush with lots of last minute panics. 
My getaways are always a bit more complex as we have three dogs and a cat.  Two of the dogs are elderly and very needy. It's better for them if they stay put in safe and familiar surroundings.
So this is where our trusty dog and house sitter Mrs M, the furry godmother comes in. 
Leaving for a holiday usually involves a few tidying chores. Like cancelling the papers, putting the bins out, cleaning the dishes and chucking out any old bits of food from the fridge and of course booking airport parking. 
Having someone coming to stay means tidying up, cleaning the kitchen and bathroom. Mrs M likes a king size bed to sleep in as she has a bad back and she gets hemmed in by the elderly dogs. Plus the  fridge needs to be purged to make way for her microwave meals and cheeky puds. 
Usually, by the time Mrs M rocks up it's normally me in a hot and bothered fluster. But last week it was Mrs M who arrived all in a lather.  
Mrs M was upset because she had just got a letter in the post from the DVLA. The letter said she had been fined for not having her 12 months vehicle tax. She was perplexed as to how the DVLA had found out.  
Mrs M explained how she had just bought a new car and had been swapping over details etc. from the old car to the new one. She had failed to check the road tax was paid on her car. 
Not having an old fashioned disc, which since its introduction in 1921 has since been phased out, had flummoxed Mrs M. 
She thought she had been caught out by typing her car registration number in the local council car park machine. 
 I explained it was more likely to be from the blue roadside number recognition cameras you get by the side of UK roads. These can check people's movements, which helps tor nail thieves if they claim to have not been in the area.  
Our poor furry godmother was so upset at the thought of having to crimp into her savings. I thought how could she have double checked if her car was or wasn't taxed or insured? 
Check vehicle tax online
A bit of research, I found out that it's fairly easy to check vehicle tax online and get a reference number. 
If Mrs M had checked the government website, she would have been able to entire her old car number plate and find out before she had taken it on the road to the garage. 
Nowadays all motorists need to register their car online to pay Vehicle Excise Duty or Road Tax to you and me. It's easy to do through the DVLA website using direct debit or at your local Post Office or by phone.
Hopefully Mrs M's new car will be around for many years to come and she won't have to go through that worry again. It's a cautionary tale but definitely worth paying heed too. 
We love our dog sitter as she loves our animals and takes care of them whilst we go off and relax. So I mustn't grumble about the extra pre holiday housekeeping hassles. 
How much does it cost to tax your car?
The cost of taxing your vehicle depends on a number of factors. In short, it is a complicated matter. You're best off visiting the official website to check the cost at https://www.gov.uk/vehicle-tax-rate-tables.
How can I check the MOT history of a vehicle?
It is easy to check the MOT history of a vehicle by visiting the UK's official site at https://www.gov.uk/check-mot-history