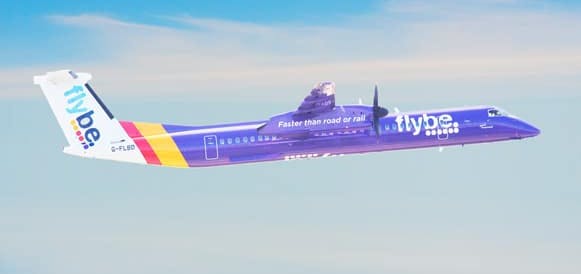 Flybe gets Government help

Flybe has been on the verge of bankruptcy for days since Sky News broke the story that an administrator had been lined up to deal with a possible collapse.
Since then Connect Airways the Consortium who own the company have refused to comment, but it has emerged that they are in talks with the UK government about a rescue deal.
Boris Johnson has made a pledge to improve 'regional connectivity', so it would be embarrassing for the government to have a regional airline go bust. Probable outcome of a government deal appear to be as follows…
Flybe get a deferral of their Air Passenger Duty (APD) and then the government reviews the levy for all carriers.
The government provides a short term loan to Flybe to help them until they get on a firmer financial footing.
The Connect Consortium inject a further £30 million into Flybe.
Flybe is based in Exeter, Devon. Until its sale to Connect Airways in 2019 it was the largest independent airline in Europe. Flybe carries more than 8 million half of all domestic passengers in the UK outside of London.
Flybe also has an extensive network outside the UK with over 210 routes in 15 countries. Its two hubs are Birmingham and Manchester airports. Flybe also has a number of codeshares enabling it to connect to long haul destinations from Heathrow, Paris, Amsterdam and Dublin.
Flybe has a number of turboprop planes including the Bombardier Q400 shown in the image above and the De Havilland Dash 8-400. It always operates jet engines including the Embraer 175 and 195.
Flybe was launched in 1979 as Jersey European Airways then renamed as British European in 2000 and finally Flybe in 2002. In late 2018, Flybe put itself up for sale in late 2018 and was purchased in Feb 2019 by Connect Airways a consortium of Virgin Atlantic, Stobart Aviation and Cyprus Capital Partners.
Parking4less offers Exeter airport parking and Exeter airport hotels at Exeter Airport.